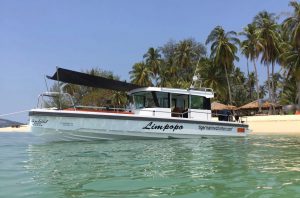 For a fabulous day out, and the opportunity to see the beautiful outlying tropical islands off Phuket, there is a "must do" cruise, on the brand new speedboat Limpopo!
You can go swimming and snorkelling or fishing, or just relax on the boat or beach.  A delicious picnic lunch is included as well as drinks.  Good music on board, or bluetooth from your own device. Towels and snorkel equipment provided for adults and children, as well as fishing gear.
Every single charter is tailored exclusively to meet your wishes.
You can choose where you want to go, and how long you stay there.   A cruise round Phang Nga bay is not to be missed, and many other choices.
See the link for details and book now!
Follow Us: